European interministerial delegation visited our Ÿnfarm plant
---
Paris, Friday January 21, 2022 – Today, FARMŸNG project welcomed Barbara Pompili, Minister of Ecological Transition, together with her European environmental counterparts, including Virginijus Sinkevičius, European Commissioner for the Environment, Oceans and Fisheries, to our Ÿnfarm plant, located in Poulainville, near Amiens. The construction works stated on March 2020 and it  is expected to come into operation in the second half of 2022, and should go on to produce over 200,000 metric tons of insect-based ingredients per year. Ÿnfarm is set to be the world's largest vertical farm: a unique complex covering an area of some 45,000 m² and 36 metres high, built to breed beetles, and with a built-in, fully automated food processing unit.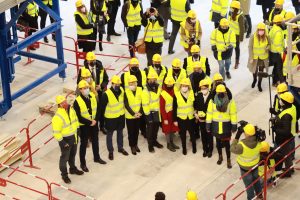 The FARMŸNG project indeed, has the ultimate objective to demonstrate a large-scale, first-of-its-kind bio-based value chain producing sustainable, safe and premium feed products from an innovative origin: the Tenebrio molitor insect (mealworm). The Ÿnfarm plant developed for FARMŸNG, thus, will exploit the physiological capabilities of mealworms physiology to efficiently convert vegetal by-products in mealworm biomass and will transform those mealworms into sustainable proteins and lipids for fish feed and pet food end markets. In parallel, manure will be recovered for soil fertilization applications.
Thanks to the Ÿnfarm, FARMŸNG will contribute reducing environmental impact on an ongoing basis, by drastically reducing the carbon footprint greenhouse gas (GHG) and NH3 emissions associated to the the production of animal proteins.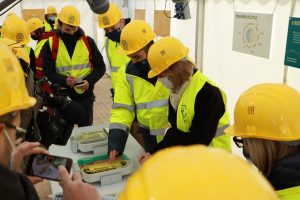 The visit forms part of a programme of informal meetings of Ministers of Environment and Energy Departments, within the context of the French Presidency of the Council of the European Union, scheduled to take place in Amiens, between 20 and 22 January 2022, which seeks to foster both European thinking and work.
Contact us to learn more on the FARMŸNG project and the Ÿnfarm site!